Management for the Third Sector
[av_layerslider id='1434'] [av_layerslider id='1435'] [av_section min_height='custom' min_height_px='60px' padding='small' shadow='no-border-styling' bottom_border='no-border-styling' bottom_border_diagonal_color='#333333' bottom_border_diagonal_direction='' bottom_border_style='' scroll_down='aviaTBscroll_down' custom_arrow_bg='#f37421' id='' color='main_color' custom_bg='#ffffff' src='' attachment='' attachment_size='' attach='scroll' position='top left' repeat='no-repeat' video='' video_ratio='16:9' overlay_opacity='0.5' overlay_color='' overlay_pattern='' overlay_custom_pattern='' av_element_hidden_in_editor='0'][/av_section] [av_one_full first min_height='' vertical_alignment='' space='' custom_margin='' margin='0px' padding='0px' border='' border_color='' radius='0px' background_color='' src='' background_position='top left' background_repeat='no-repeat' animation='' mobile_breaking='' mobile_display=''] [av_heading heading='Management for the Third Sector' tag='h2' style='blockquote modern-quote' size='48' subheading_active='subheading_above' subheading_size='12' padding='15' color='custom-color-heading' custom_font='' av-medium-font-size-title='' av-small-font-size-title='' av-mini-font-size-title='' av-medium-font-size='' av-small-font-size='' av-mini-font-size='' admin_preview_bg='']
Competencies & Sectors
> Third Sector [/av_heading] [av_textblock size='20' font_color='' color='' av-medium-font-size='' av-small-font-size='' av-mini-font-size='' admin_preview_bg='']
To see and understand institutions as a whole, composed of several parts that operate in an organic way - from human resources to marketing, passing through operations and the financial area - is the challenge for today's leaders. They must be able to establish common goals for the various parts of the institution, always aligned with its Mission.
[/av_textblock] [/av_one_full] [av_hr class='invisible' height='70' shadow='no-shadow' position='center' custom_border='av-border-thin' custom_width='50px' custom_border_color='' custom_margin_top='30px' custom_margin_bottom='30px' icon_select='yes' custom_icon_color='' icon='ue808' font='entypo-fontello' admin_preview_bg=''] [av_toggle_container initial='1' mode='accordion' sort='' styling='av-minimal-toggle' colors='custom' font_color='#f37421' background_color='#dcded9' border_color=''] [av_toggle title='Message from the Program Director' tags=''] For 40 years AESE Business School has been at the forefront of facing the challenges of management education, leading innovation paths strongly rooted in time and context, focusing on the centrality of the Person in the organization.
Management for the Third Sector (GOS) ministered by AESE for the last 12 years, has sought to answer the desire to serve of a social organization, providing its leaders with innovative management tools in order to provide moments of pause, reflection, debate, innovatiob, planning and evaluation.
In a sector strongly defined by the paradigm shift that has been experienced in recent years, for GOS the priority is the intersectoral dialogue, in order to ensure the sustainability of organizations.
However, the global and national pandemic scenario has changed those priorities. Today, the Social Economy Sector has given in the immediate crisis we are experiencing, many examples of resilience and responsiveness.
It is undeniable that the Social Economy has been playing an important role in addressing and mitigating the short and long term impacts of the COVID-19 crisis on the economy and society. Foregone is the time when common sense and the conviction of the desire to do well were enough.
From inter-sector dialogue to attracting investment, from human resource management to the satisfaction of employees and beneficiaries, from resilience to new management models, these are the paths that the leaders of these entities will have to travel with courage and determination. The uncertainty of the present time brings with it new pedagogical, conceptual, and strategic management challenges that AESE has decided to embrace.
If you want to turn uncertainty into an opportunity to better manage your organization, join us in the 2021 edition of GOS!
Cátia Sá Guerreiro
Setember de 2020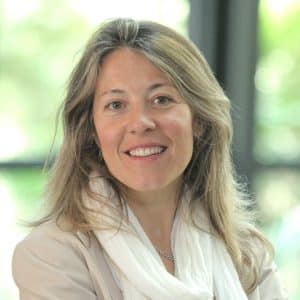 [/av_toggle] [av_toggle title='Objetives' tags=''] GOS has a main objective:
To promote reflection on the efficient use of resources;
To provide strategies and tools for motivation and management of teams;
Create in the participant the healthy ambition of readjusting the organizational strategy to the objectives of the institution.
The mastery of management tools is still a significant lack in this sector. GOS arises to meet this need, as well as to enhance the decision-making and management capabilities of the leaders of entities in the Social Economy Sector.
Taking part in GOS provides a weekly break to, over the course of four months, exercise, in multidisciplinary working groups, the skills of dialogue and respect among peers, optimize and rationalize resources and share experiences and networking, in a broad reflection on the various areas of management.
[/av_toggle] [av_toggle title='Participant Profile' tags=''] GOS was designed for leaders of Social Economy organizations or employees in leadership positions who want to improve their management capacity, not only in terms of resources but also in terms of the performance of employees and volunteers.
[/av_toggle] [av_toggle title='Partnerships' tags='']
ENTRAJUDA
is a private social solidarity institution, which aims to support other institutions in terms of organization and management, and considers as a strategic area of its activity education aimed primarily at managers, supervisors and technicians, i.e. people responsible for managing social solidarity institutions and relationships with people in need. The
Millennium bcp Foundation
, established by Banco Comercial Português, is a reflection of the Bank's culture of social responsibility. The Millennium bcp Foundation considers important to provide conditions so that the institutions that integrate the Third Sector, called to an increasing protagonism, can play it in an effective and efficient way. [/av_toggle] [av_toggle title='Program Structure' tags=''] To be sustainable you need manage well Areas studied in GOS:
Company and organization policy;
Accounting and finance;
Marketing e economia social;
Human Factor, Leadership, and Ethics;
Operations and services;
Fundraising;
Volunteer management.
[/av_toggle] [av_toggle title='Case method' tags=''] Leading can only be learned... by leading. By placing participants face to face with real business conflicts, managers are called upon to assume the role of decision-makers in circumstances similar to their day-to-day lives in organizations. The cases pose challenges that require effective responses in the face of rigorous analysis of limited or even insufficient information, in ambiguous or complex political-economic contexts. Individual diagnosis and decisions are negotiated with experienced, talented, and ambitious colleagues. This is why learning at AESE is inspired on the Harvard Business School model and developed in the image of the IESE Business School. Today, the Case Method stands out as a sophisticated means of transforming the potential talent of the participants into powerful decision-making capabilities. AESE remains at the forefront of Case Method education in Portugal.
Phases of the Case Method
Individual study: Reading and studying each case in order to analyze the facts, alternatives, and decisions that can unfold from it.
Study Group: The richness of this step lies in the fact that each of the participants will present approaches and solutions based on their background and professional experience. The various approaches are also an excellent opportunity to examine the different criteria.
Plenary session: With a broader view and as a result of the evaluation carried out in the two previous phases, the professor leads and coordinates the debate, summarizes the main aspects of the case, relates them to the most significant theories, and highlights the relevant values and options, taking into account the various criteria alternatives and possible decision.
[/av_toggle] [av_toggle title='Languages' tags=''] Portuguese and Spanish [/av_toggle] [av_toggle title='Next edition and duration' tags=''] Date: GOS Porto | From January to March 2024 GOS Lisbon | From February to March 2024
Format: 1/2 day a week and 1 time a month full day.
Application Deadline: GOS Porto | December 2023 GOS Lisbon | December 2023 [/av_toggle] [av_toggle title='Price' tags=''] 600 € + IVA Program subsidized by the Millennium bcp Foundation. Includes: documentation and catering Special payment terms will be reviewed on a case-by-case basis. [/av_toggle] [/av_toggle_container] [av_hr class='invisible' height='70' shadow='no-shadow' position='center' custom_border='av-border-thin' custom_width='50px' custom_border_color='' custom_margin_top='30px' custom_margin_bottom='30px' icon_select='yes' custom_icon_color='' icon='ue808' font='entypo-fontello' admin_preview_bg=''] [av_layout_row border='' min_height_percent='' min_height='0' color='main_color' mobile='av-fixed-cells' id='program-contact' av_element_hidden_in_editor='0' mobile_breaking='' av-small-hide='aviaTBav-small-hide' av-mini-hide='aviaTBav-mini-hide'] [av_cell_one_fourth vertical_align='middle' padding='30px,10px,0px,30px' background_color='' src='' attachment='' attachment_size='' background_attachment='scroll' background_position='top left' background_repeat='no-repeat' mobile_display=''] [/av_cell_one_fourth][av_cell_one_fourth vertical_align='bottom' padding='0px,10px,12px,25px' background_color='' src='http://wordpress.aese.pt/wp-content/uploads/2019/02/contactback-3-251x300.png' attachment='1753' attachment_size='medium' background_attachment='scroll' background_position='bottom right' background_repeat='repeat-x' mobile_display=''] [av_image src='https://www.aese.pt/wp-content/uploads/2020/10/Escudo-contacto-e1608287906723-261x300.png' attachment='64901' attachment_size='medium' align='right' styling='no-styling' hover='' link='' target='' caption='' font_size='' appearance='' overlay_opacity='0.4' overlay_color='#000000' overlay_text_color='#ffffff' animation='no-animation' admin_preview_bg=''][/av_image] [/av_cell_one_fourth][av_cell_one_fourth vertical_align='bottom' padding='0px,0px,5px,0px' background_color='' src='http://wordpress.aese.pt/wp-content/uploads/2019/02/contactback-3-251x300.png' attachment='1753' attachment_size='medium' background_attachment='scroll' background_position='bottom left' background_repeat='repeat-x' mobile_display=''] [av_heading heading='Contacts' tag='h2' style='blockquote modern-quote' size='20' subheading_active='' subheading_size='15' padding='0' color='custom-color-heading' custom_font='#f37421' av-medium-font-size-title='' av-small-font-size-title='' av-mini-font-size-title='' av-medium-font-size='' av-small-font-size='' av-mini-font-size='' admin_preview_bg='rgb(241, 241, 241)'][/av_heading] [av_textblock size='20' font_color='' color='' av-medium-font-size='' av-small-font-size='' av-mini-font-size='' admin_preview_bg='rgb(241, 241, 241)']
Lisboa | Filomena Gonçalves
filomenagoncalves@aese.pt
Tlf
(+351) 217 221 530
[/av_textblock] [av_textblock size='20' font_color='' color='' av-medium-font-size='' av-small-font-size='' av-mini-font-size='' admin_preview_bg='rgb(241, 241, 241)']
Porto | Casimiro Arsénio
casimiro.arsenio@aese.pt
Tlf
(+351) 939 939 607
[/av_textblock] [/av_cell_one_fourth][av_cell_one_fourth vertical_align='top' padding='30px' background_color='' src='' background_attachment='scroll' background_position='top left' background_repeat='no-repeat' mobile_display=''] [/av_cell_one_fourth] [/av_layout_row] [av_section min_height='' min_height_px='500px' padding='no-padding' shadow='no-border-styling' bottom_border='no-border-styling' bottom_border_diagonal_color='#333333' bottom_border_diagonal_direction='' bottom_border_style='' custom_arrow_bg='' id='#event-booking-anchor' color='main_color' custom_bg='' src='' attachment='' attachment_size='' attach='scroll' position='top left' repeat='no-repeat' video='' video_ratio='16:9' overlay_opacity='0.5' overlay_color='' overlay_pattern='' overlay_custom_pattern='' av_element_hidden_in_editor='0'] [av_textblock size='24' font_color='custom' color='#f37421' av-medium-font-size='' av-small-font-size='' av-mini-font-size='' admin_preview_bg=''] For more informartion [/av_textblock] [av_one_full first min_height='av-equal-height-column' vertical_alignment='av-align-top' space='no_margin' custom_margin='aviaTBcustom_margin' margin='0px' margin_sync='true' padding='25px' padding_sync='true' border='3' border_color='#dcded9' radius='0px' radius_sync='true' background_color='' src='' attachment='' attachment_size='' background_position='top left' background_repeat='no-repeat' animation='' mobile_breaking='' mobile_display=''] [av_textblock size='' font_color='' color='' av-medium-font-size='' av-small-font-size='' av-mini-font-size='' admin_preview_bg=''] [event post_id="64173"] #_BOOKINGFORM [/event] [/av_textblock] [/av_one_full] [/av_section] [av_section min_height='' min_height_px='500px' padding='default' shadow='no-shadow' bottom_border='no-border-styling' bottom_border_diagonal_color='#333333' bottom_border_diagonal_direction='' bottom_border_style='' custom_arrow_bg='' id='' color='main_color' custom_bg='' src='' attachment='' attachment_size='' attach='scroll' position='top left' repeat='no-repeat' video='' video_ratio='16:9' overlay_opacity='0.5' overlay_color='' overlay_pattern='' overlay_custom_pattern='' av-desktop-hide='aviaTBav-desktop-hide' av-medium-hide='aviaTBav-medium-hide' av_element_hidden_in_editor='0'] [av_textblock size='' font_color='' color='' av-medium-font-size='' av-small-font-size='' av-mini-font-size='' admin_preview_bg=''] Contacts [/av_textblock] [av_textblock size='' font_color='' color='' av-medium-font-size='' av-small-font-size='' av-mini-font-size='' admin_preview_bg='']
Lisboa | Filomena Gonçalves
filomenagoncalves@aese.pt
Tlf
(+351) 217 221 530
[/av_textblock] [av_textblock size='' font_color='' color='' av-medium-font-size='' av-small-font-size='' av-mini-font-size='' admin_preview_bg='']
Porto | Casimiro Arsénio
casimiro.arsenio@aese.pt
Tlm
(+351) 939 939 607
[/av_textblock] [/av_section]
https://www.aese.pt/wp-content/uploads/2020/12/Banner-GOS-2020_home_540x470-Feature-image_2.jpg
470
540
admin
https://www.aese.pt/wp-content/uploads/2023/04/AESE_v.03_mono_white_site.png
admin
2021-04-12 05:01:35
2023-07-04 17:41:35
Management for the Third Sector